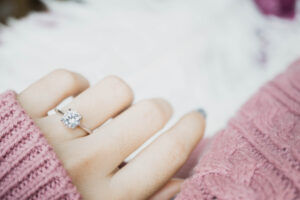 Diamond engagement rings are the symbol of love and affection. When your partner proposes to you with a beautiful diamond ring, you would be the happiest person on earth. You would want to flaunt that engagement ring everywhere you go and show it to your friends, colleagues, and family members. The one thing that most people forget is that diamonds are not invulnerable even though they are the hardest substance on the planet.
If your lab-grown diamond engagement ring falls down, it may get chipped or cracked. The damaged diamond does not have any resale value. Therefore, protecting your diamond ring at all times is a must. Make the best purchasing selection for your diamond ring and maintain it in perfect condition throughout your life. Here are some suggestions for keeping your prized asset safe.
Learn About Diamond Cuts That Require Extra Attention
Since they contain pointy or sharp corners, some diamond cuts are more susceptible to chipping than others. One example is the square-shaped princess cut. Because of their atomic structure, diamonds exhibit cleavage, which is really the tendency of some gemstones and minerals to shatter or split very easily along crystallographic planes. Diamonds are harder in directions where the atoms are closely bound together, and less tough in directions where they are not. Diamonds are more prone to be destroyed on or near a cleavage plane because of this.
Use Laser Engraving To Protect Your Diamond
The grading report numbers are typically microscopically etched on the girdles of diamonds evaluated by GIA. All the diamonds that have a GIA Diamond Dossier report have this laser inscription put on them automatically. It's a low-cost add-on service available for diamonds with GIA grading reports. A laser inscription acts as a secure identifier that connects the diamond to its report data.
Choose A Secure Setting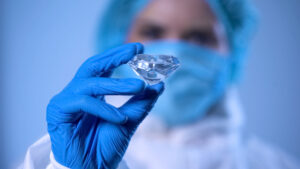 Sometimes a diamond can fall off the setting and get chipped or cracked. Prongs are used to hold a diamond in its setting in a diamond engagement ring. A prong is a small metal support that comes in groupings of 4 to 6. If one prong breaks, the diamond can be held in place by the other. The two extra prongs may also give some additional protection for the edges during everyday use.
A bezel setting, in which a thin metal strip is pressed or pounded around a gemstone to hold it in position, is another option that provides significant protection. The girdle is protected from bumps, knocks, and other incidents when the center diamond is set in a bezel setting. Diamonds are additionally protected with V-shaped and partial bezels prongs.