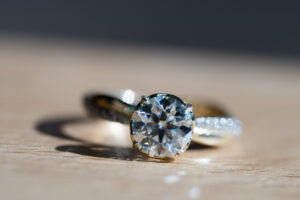 Industry experts regard engagement jewelry trends as fodder for debate. It is a good idea to start the year 2022 with a dose of gemstone knowledge. Jewelry trends usually evolve more slowly as compared to apparel trends but are among the most interesting to discover. With the year 2022 comes some changes in the best-known engagement jewelry styles, though hits such as elongated stones in solitaire settings, non-conventional designs and yellow stay the same. Here, we will discuss some trends for 2022 engagement rings.
Oval Stones
Oval has long been among the best-known diamond shapes for engagement jewelry and is unlikely to be less popular next year. Oval diamonds appear stunning on the middle finger as well as are available in lab-grown forms and with recycled gold bands. The above-mentioned signifies the ever-growing interest in jewelry sustainability.
You And Me Rings
As A-list celebrities such as Emily Ratajkowski and Ariana Grande wear these, industry experts expect an increase in the popularity of 'you and me' rings. These are rings with two large centerpieces meeting around the engagement finger and representing the union of a couple. It has been among the best-known engagement ring styles among people on Instagram for a while now.
Elongated Diamonds
Besides oval and pear shapes, there is increasing popularity for emerald diamond cuts. Customers are gravitating considerably to elongated diamond rings, including the pieces with the so-called East-West setting. For the uninitiated, it is a form of engagement ring setting where a diamond sits horizontally on its precious metal band.
Chunky Rings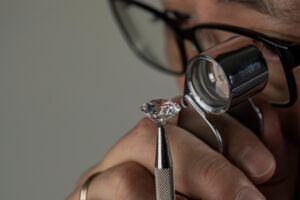 Signet rings, flush-mount engagement ring settings, and other such chunky jewelry pieces are likely to be more popular with antique inspirations. Experts predict a resurgence for chunkier engagement rings next year with curves and twists in yellow gold, thicker bands with coveted designs from the 1980s, and split-shank elements curving around the centerpiece.
Bold Halos
The word halo refers to a vintage-inspired style of engagement jewelry. Halo designs that stand out from the other ring elements are popular among customers. Besides, celebrities have been leaning toward vintage-inspired rings with colored gems or diamonds with a traditional sunburst halo style. It is perhaps associated with the renewed interest in Princess Diana's jewelry. For the uninitiated, Kate Middleton now wears the royal ring with 14 diamonds set around a sapphire centerpiece on an 18-karat white gold band. The sapphire centerpiece has a blue color and an oval shape.