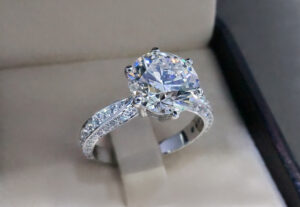 Customizing your engagement ring is a great way to make it unique and stunning. You can add or remove different features to your ring based on your imagination and requirements if you choose to customize it. Customized engagement rings carry a special meaning and can have more sentimental value.
There is a wide variety of ways available to customize your engagement ring. Some of the best tips to personalize your engagement ring are listed below:
Add Or Remove Side Stones
Side stones can add an extra sparkle to your ring. You can add or remove side stones to your ring based on your likes. There is a wide range of options available to you when it comes to side stones including diamonds, rubies, sapphires, and other alternative gemstones.
Choose a color and shape for your gemstones based on the particular meaning that you want your ring to carry. Diamonds and other gemstones are available in an enormous number of colors that make it easy for you to bring the symbolism that you desire to your ring.
You may also prefer to remove the side stones if you don't like them or if they seem a little bit overwhelming on your ring.
Replace Diamonds With Other Gemstones
Bring a vibrant look to your diamond rings by adding alternative gemstones like rubies and sapphires. If you want a distinct appeal for your engagement ring instead of the white sparkle associated with diamonds, alternative gemstones can be a wonderful choice for you. They come in vibrant colors like red, blue, green, etc.
It is possible for you to get colored diamonds for your ring too. However, diamonds with rare colors like red, orange, and blue can be highly expensive in comparison with alternative gemstones.
Engrave Your Ring
This is one of the best ways to make your ring special. You may add different engravings to your ring including a special date, word, song lyrics, bible verse, message, etc. that carries great significance to you. This can help to commemorate your special moments in the future.
Choose A Different Shape For Your Center Stone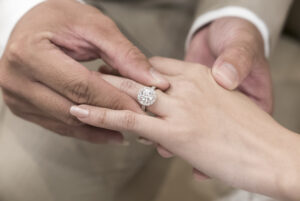 You can select a distinct shape for your center stone instead of the commonly used round brilliants. Some of the best shapes include heart, pear, oval, cushion-cut, etc. They can bring a unique appeal to your ring.
You can choose these methods to personalize your engagement ring so that it will have a unique look and carry great meanings.