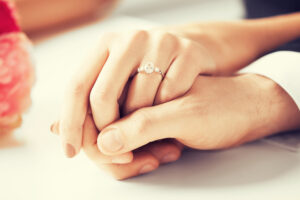 Finding the best suited precious metal for an engagement ring is equally significant as finding the perfect stone or design. Here, we will discuss the advantages and disadvantages of the best-known metal options for gemstone engagement rings. When choosing between these options, also consider the preferences of your partner, such as their jewelry style, hues, and color profiles.
Platinum
It is an amazing option for pairing with artificial diamonds or mined diamonds. The cool luster of platinum shows the shine of diamonds stunningly and lets the wearer show off their ring. It is the durability and shine of platinum that make it a popular option for not just engagement rings but also wedding bands.
Platinum is five times purer and rarer as well as more durable than other precious metal options such as gold. The durability of platinum makes it suitable to securely keep precious gems in place and for people with active lifestyles. Platinum is hypoallergenic, too, which causes it to be an obvious option for diamond rings for people with sensitive skin.
White Gold
It has a similar appearance to platinum and complements a diamond in almost the same manner as the above-mentioned metal. The main distinction is that it is an artificial product that blends manganese, palladium, nickel, and occasionally even platinum. White gold generally offers a more pocket-friendly replacement to platinum. While platinum appears the same, it offers a rarer and more durable option.
Yellow Gold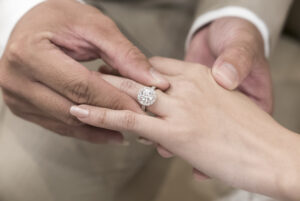 It is a traditional precious metal that was out of vogue in the past. It has had a comeback, and we hope that it will be more popular next year. A 24-karat form of gold is not strong enough to be used as a jewelry metal element. Therefore, it is blended with numerous alloys for more strength and durability. You can discover 22-Karat gold jewelry sometimes, but the more common options come in 18-karat, 14-Karat, and 10-Karat types. The inclusion of alloys will change the look, color, and strength of a ring.
Rose Gold
It is a unique precious metal with a warm hue. Creating rose gold requires combining a copper metal alloy and yellow gold. The gold to metal alloy proportion corresponds to white gold or yellow gold. It is the alloy that changes and offers the metal its distinctive look. Rose gold can complement diamonds and go well with colored gems, like yellow diamonds or pink diamonds.