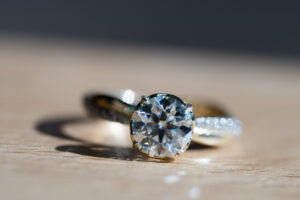 An engagement ring is something that is really special for everyone as it holds the memory of their beloved ones proposing. Everyone wants their engagement ring to be perfect and unique. You have to consider many factors before you commit to your engagement ring. Don't worry, we are here for you. In this article, we explain different styles of engagement rings.
Solitaire Ring
A solitaire ring is a thing of beauty and it comes with a single diamond. It is perfect for an admirer of elegant simplicity. Solitaire ring often comes with a prong setting which helps in maximizing sparkle. A solitaire ring is a brilliant choice for all types of diamonds.
Halo Engagement Ring
Halo engagement rings have a diamond at the center of the ring. There is a border of small diamonds framing around the main diamond at the center, which enhances the beauty of the center diamond. The halo ring looks complex, and if your life partner is a fan of ornate rings, halo rings are the perfect match for them. Vintage diamond shapes like emerald, marquise, and oval popularly use halo engagement ring design.
Three-stone Engagement Ring
A three-stoned ring is also known by the names of trinity rings and trilogy rings. As the name suggests, the design can seat three diamonds. The three diamonds are romantically symbolic as the diamonds symbolize the past, present, and future. The first diamond denotes the past memories of the couple, the center diamond represents the present life of the couple, and the third diamond symbolizes the future road to their relationship.
This ring style is customizable. You can use three similar-sized diamonds in this ring or you can use a higher carat diamond in the center with two small diamonds on the flanks. You can also use sapphires or rubies instead of small diamonds on the flank. Round, Asscher, and princess cut diamonds are popularly used with this ring style.
Sidestone Diamond Engagement Ring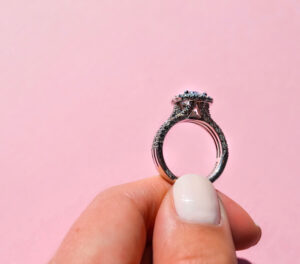 Sidestone diamond rings have a classic and refined style. There is a diamond at the center and small diamonds are studded along with the ring band. This design enhances the beauty and brilliance of the diamond you choose.
Vintage Engagement Rings
Vintage rings are a combination of antique-inspired design and modern style. There are some elegant antique designs like Art Deco antique designs. The ring design along with modern technology diamonds offer a magnificent look.