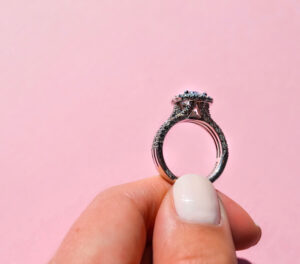 Brides who want to break tradition and go with unique styles may be happy with the wide selection of black diamond engagement rings the jewelry market has to offer. Alluring in their own way, black diamonds can add a unique charm to any engagement ring design featuring other diamonds or gemstones.
What Exactly Makes The Black Diamond Black?
Lots of inclusions are responsible for the black gemstone-like appearance of black diamonds. Just like how colorless white diamonds are unique in their own way based on the lack of inclusions, black diamonds are special due to the huge number of inclusions in them. Black diamonds are also fractured in many places, which adds to the black color of the stone. The more the number of inclusions in a black diamond, the higher will be its value.
Ideal Settings For A Black Diamond In An Engagement Ring
A black diamond can be set as a classic solitaire in a simple band or it can be surrounded by a white diamond halo. Small black diamonds can be sprinkled on a band to get a beautiful wedding band or engagement ring with an aesthetic appeal. They can also be used in a three-stone setting featuring two white diamonds, champagne diamonds or other gemstones. Black diamonds would go well with all traditional metals such as platinum, yellow gold, rose gold and white gold. However, the stark contrast of the color of platinum and white gold makes these metals ideal to be used with black diamonds to help accentuate their appearance.
The Comparative Cost Of Black Diamonds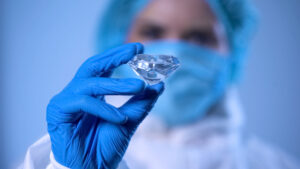 The price per carat of a black diamond is much less when compared to a colorless diamond or a fancy-colored diamond of the same carat. Grey colored natural diamonds can be treated with high temperatures and pressure to turn them into black diamonds. Such treated diamonds are often less expensive than their natural counterparts, with no visible difference in their appearance. Lab made black diamonds are also pocket friendly, yet a good quality alternative to naturally mined black diamonds.
Black diamonds add a mysterious quality to engagement rings featuring them as the center stone. They can be set in any design that suits diamonds and would look chic in any metal setting. Though considerably lesser in price than white diamonds, black diamonds have a unique appeal that adds to their value.